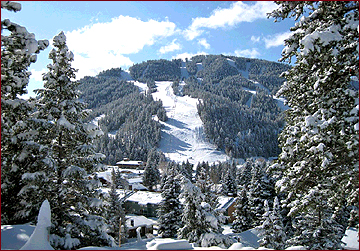 Sitzmark Sports & Lodge

Whatever your needs, you'll find it at Sitzmark Sports & Lodge!

Red River, New Mexico is the place for summer and winter fun in the Southern Rocky Mountains. The mountains are gorgeous, the views expansive, the weather moderate, and there's always something fun to do! The only thing left is to find a great place to stay, and to rent your ski and snowboard equipment for your winter vacation. That's where the specialists at Sitzmark Sports & Lodge can help.
When it comes to winter sports, no one does it better than Sitzmark Sports! The professionals at Sitzmark Sports service skiers and snow boarders all over Northern New Mexico, with rentals of high quality skis, snowboards, snow blades, snowshoes, ski bibs, ski jackets, gloves, helmets, goggles, wrist guards and more. They tune their skis and snowboards to a quality high enough to satisfy the University of New Mexico ski team. The Sitzmark team consists of some of the best downhill athletes in Northern New Mexico ... another reason to get your equipment and advice from the pros at Sitzmark Sports!
Comfortable, Conveniently Located Lodging in Red River, NM
The Sitzmark Lodge in Red River, New Mexico offers spacious, comfortable, and impeccably clean rooms at affordable rates. The Sitzmark Lodge is located in the center of town, across the street from the main ski lift, and a stone's throw from Red River's main shopping district.
Enjoy comfortable lodging for 2 to 8 people convenient to skiing and summer recreation activities in the Sitzmark upper level, the Thunderbird Lodge, or the private mountain cabin. Larger Sitzmark guest accommodations include spacious full kitchens, some with dishwashers and washer/dryers. Choose a unit with balcony or fireplace. All units include a wall safe, Cable TV/DVD/VCR and phone.
A wilderness playground, both summer and winter!
Red River is located in Northeastern New Mexico in the Enchanted Circle, and is surrounded by over 1 million acres of the Carson National Forest, with 330 miles of trails and 400 miles of sparkling clean creeks and lakes. Red River is a vacation paradise year-round, offering a wealth of recreational activities to delight the most casual to the most extreme enthusiast.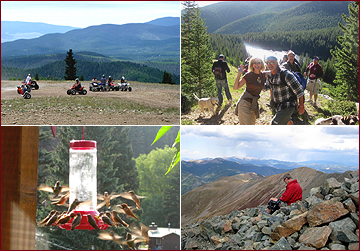 Long known as a winter resort, the arid, high desert climate of Northern New Mexico produces a find powder snow unique to the area. And at an average of 18' per year, the Red River Ski Area receives the most snowfall of any New Mexico ski resort. This family-friendly resort is open to skiers, snow boarders and bladers, with plenty of activities to satisfy all ages. Enjoy Torchlight Parades down the mountain most Saturdays during ski season. Prior to the Torchlight Parade is the Saturday Night Rail Jam. Skiers and snow boarders show off the latest tricks and stunts. Everyone is invited to participate in this freestyle show; this is something the kids will definitely want to check out.
But of course, skiing is not the only snow sport, and Red River has them all! Enjoy the stunning beauty and the quiet majesty of snow-covered mountains and clear blue skies on one of the many cross-country ski trails, or take to the back-country on show shoes. And bring along your snowmobile or rent one in town.
A Summer Rocky Mountain Vacation Paradise
With the spring comes the snow melt, and the creeks and streams of the Carson National Forest swell with clear, cold water. Northern New Mexico is renowned for its fly fishing, with native cutthroat trout a favorite. Spring too, means birdsongs echoing through the valley. Hummingbirds abound in the Red River area, and a short stroll brings you to wonderful bird habitats where you can find Rocky Mountain Bluebirds and raptors of numerous kinds. later in the season, the alpine meadows will be blanketed by wildflowers, and wildlife watching is always in season.
Hundreds of trails mean great hiking, camping and trail riding. You can take a short ride, or go hiking and camping with llamas or on horseback. Either way, the animals carry the provisions, meaning yummy meals under the stars. And when you return from your horseback adventure, you can continue the cowboy theme with a Cowboy Evening, enjoying delicious food and entertainment in jovial company.
The trails of the Carson National Forest draw cyclists from all over for some of the best mountain biking anywhere. From steep mountain trails, to a windswept ride along the rim of the Taos Gorge, a wide variety of terrains awaits the cyclist. And the road biking is phenomenal here as well! Ride the Enchanted Circle to really see Northern New Mexico, from the mountains of Red River to the high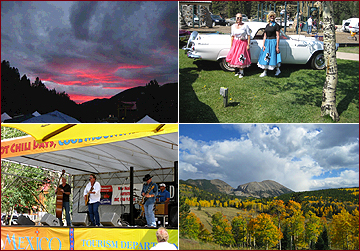 desert mesa of Taos. And while in Taos, enjoy world class shopping, galleries and dining, museums and the oldest inhabited dwelling in North America, the Taos Pueblo. If this 86 mile jaunt isn't enough, there is a double century ride which so far has only been finished by two individuals ... care to try for three?
Nearby you will also find great whitewater rafting, from relaxed two and three day rafting / camping trips on the Rio Chama, to the challenging Class IV and V rapids of the Taos Box on the Rio Grande.
Or, see the stunning Rio Grande Gorge by balloon. Surrounded by the Rocky Mountains, the expansive Taos mesa creates perfect thermals for a memorable balloon flight. Just imagine the views of the Rio Grande snaking across the mesa, surrounded by stunning desert and mountain vistas! Whatever you choose to enjoy during your visit to Red River, don't forget to bring your camera!
There is Always Something Going on in Red River!

And no matter what time of year you visit, there is always something going on in this little town. Red River hosts the biggest little Mardi Gras celebration anywhere, a Memorial Day weekend motorcycle rally, a great Blues Festival, Chili Cookoff, Antique Car Show, and even a town wide garage sale! Red River is a tiny town that parties in a big way! And of course, this beautiful Rocky Mountain town is also the perfect place to just relax and enjoy cool summer days and star-filled nights in some of the most beautiful country anywhere!
For more information about Sitzmark Sports Ski Shop and lodging visit their website - and don't forget to ask about military discounts!